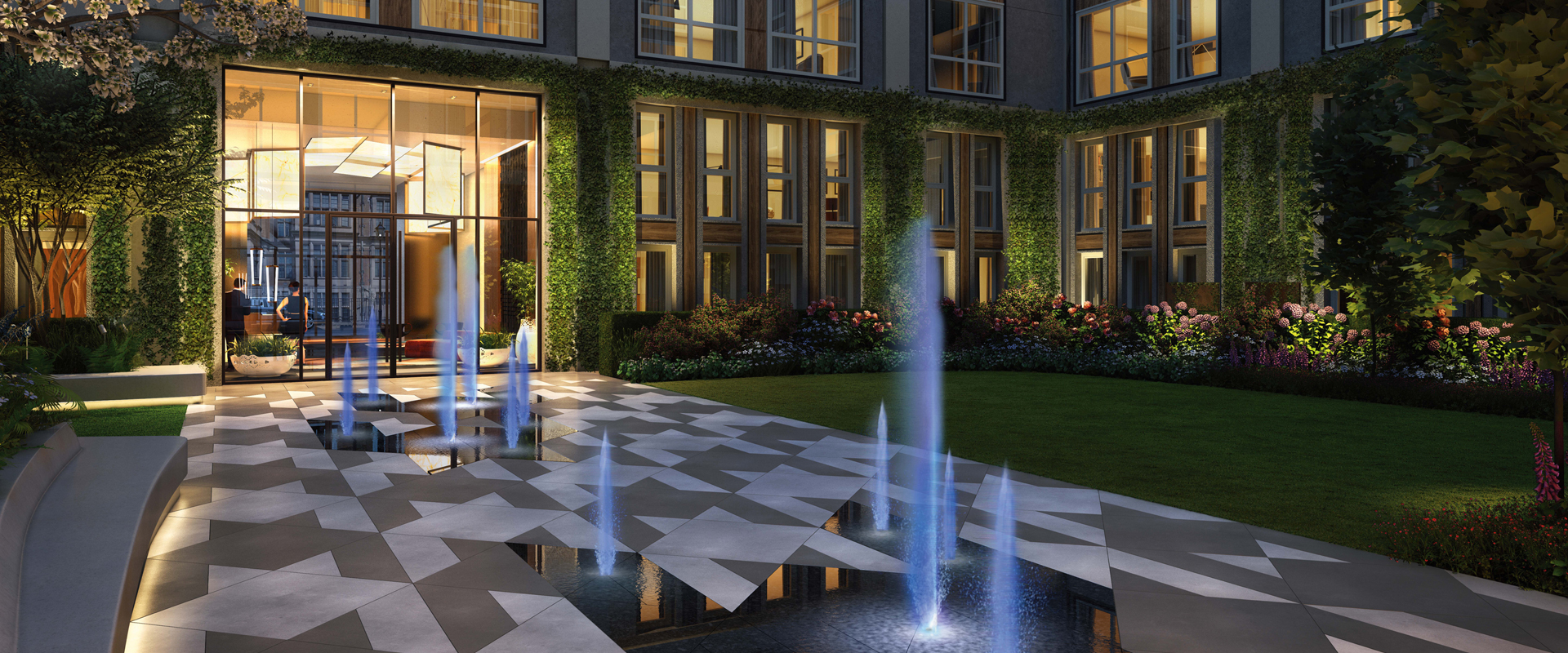 A RARE OASIS
---
Londoners know Lincoln's Inn Fields as a sanctuary from the busy streets of Covent Garden and the Strand. This central oasis, rich in famous academic, legal and cultural institutions, is one of London's oldest residential areas.Soon this historic neighbourhood will be home to Lincoln Square.
LINCOLN SQUARE
---
Lincoln Square provides a unique opportunity to own a high quality residence in one of London's finest neighbourhoods. Located on a rare island site, the building has views of the adjacent Royal Courts of Justice, New Court Chambers, the old Land Registry building as well as the Thames and Lincoln's Inn Fields.
---
Lodha has brought together a world-class team who have conceptualised an exclusive residential enclave set around a private garden square. The development features architecture by PLP Architecture, landscape by Gustafson Porter, interior design of the public and amenity areas by the celebrated interior designer Patricia Urquiola, and residential interiors by the award-winning Bowler James Brindley.
GREAT SQUARES
---
Designed in the 1600s, Lincoln's Inn Fields – at 11 acres – is London's largest residential square. It began as a home to the aristocracy before many of its buildings became solicitors' offices and barristers' chambers.
---
London's garden squares are home to some of its most sought after real estate, including Belgravia's prestigious Eaton, Chester and Belgrave Squares and Mayfair's Grosvenor Square. With Lincoln's Inn Fields set to become home to London's most prominent new development, it will soon reclaim its place amongst London's most sought after addresses.
HISTORIC QUARTER
---
To walk the streets that surround Lincoln Square is to step through the ages. The Royal Courts of Justice have set the standards for law across the United Kingdom for over 300 years. Nearby Temple and New Square have sat at the heart of the legal profession for more than 500 years. These streets inspired the greatest writers of their time — Shakespeare, Dickens, Pepys — in an area that was to become the literary and intellectual heart of London, home to the Bloomsbury Set.
---
A QUIET HAVEN
---
Lincoln's Inn Fields is like being in another world – a calm, quiet haven just 200 metres away from the bustling streets of Covent Garden, the Strand and Holborn.
Those who work around Lincoln's Inn Fields pass great buildings on their way to offices, courts and lecture theatres, but residents at Lincoln Square will have the privilege of savouring them at leisure.
The Victorian Gothic ornateness of the Royal Courts of Justice, the neo-Jacobean grandeur of the former Land Registry building and the 12th century church of Inner and Middle Temple will be the backdrop to their daily lives.